You can thank the Kardashians for the "big butt, tiny waist" beauty standard. Ever since the mid 2010s, thousands of women have undergone Brazilian butt lifts every year to remove fat from their abdomens and transfer it to their butts. In fact, data from the American Society of Plastic Surgeons states that nearly 22,000 people got BBLs in 2020, making it the 6th most popular cosmetic surgery that year. What most people don't realize is that removing fat and transferring it to another area of the body can lead to a brutal recovery period. That's why Dr. Daneshmand is discussing all things BBL recovery: BBL recovery tips, timeline, pain levels, post-op results, and so much more.
Call 949-359-8397 to learn more information or to schedule an appointment at Silhouette Plastic Surgery Institute today.
What is a BBL?
A Brazilian butt lift (BBL) is a type of surgical procedure designed to improve the shape and size of the butt. Despite the name, a Brazilian butt lift procedure doesn't actually involve "lifting" the butt, like you would lift the face during a surgical facelift.
Instead, it just makes the butt bigger and the waist smaller through fat grafting, also known as fat transfering. This means that a plastic surgeon takes fat cells from one area of the body (usually the stomach or flanks) via liposuction and injects it into the butt. For this reason, a Brazilian butt lift procedure is also known as "buttock augmentation with fat grafting." It does not address or improve cosmetic problems such as sagging skin. A regular butt lift may be a better option to address excess skin and sagginess.
Who is a Good Candidate for a Brazilian Butt Lift?
You may be a good candidate for a Brazilian buttock lift if:
You feel as though you have a flat or small butt,
Your self-confidence suffers greatly because of the size of your butt,
Your body has completely finished developing,
You have good physical health and no major health conditions/disorders,
You have realistic expectations about BBL results,
And you have enough extra fat cells in other areas of the body to transfer to your butt.
Be sure to schedule an appointment with a board certified plastic surgeon, like Dr. Daneshmand, to determine if Brazilian butt lift surgery would be the best option for your cosmetic concerns and your overall health.
How a BBL Procedure Works
The first thing that will happen during a BBL procedure is that you'll be completely sedated with general anesthesia. That way, you'll be asleep and you won't feel any pain.
After that, your plastic surgeon will begin the fat transfer. This is done by making small incisions in the skin, and inserting an instrument called a cannula that's attached to a suctioning device. The surgeon will suction out between 300 ccs to 500 ccs of fat cells from a fatty part of the body. This is equivalent to about 1 to 2 cups of fat cells.
Next, the surgeon will purify the fat cells. In other words, after they remove fat, they will separate the viable fat cells from other fluid and tissues collected during the liposuction process. The purification process can improve the chances of the injected fat surviving the transfer and healing process.
Now it's time to transfer the fat cells to the buttock region. To do this, the plastic surgeon will make a few small incisions around the butt and begin injecting the purified fat into the subcutaneous tissue, which is between the top layer of skin and the muscle. The top of the butt gets the most transferred fat, while the middle gets less.
Lastly, the plastic surgeon will stitch up the incisions and send you to the recovery room.
Risks and Complications From a BBL
There are numerous risks involved in a Brazilian butt lift surgery, including:
Fat embolism, which is when one or more fat cells clog the circulatory system by entering the blood vessels.
Blood vessel and/or nerve damage from the cannula.
Blood clots.
Excessive bleeding.
Post-op infection.
Bruising.
Swelling.
Fluid retention.
Poor wound healing.
Cosmetic results that you don't like.
If you begin experiencing any symptoms of infection or fat embolism after a Brazilian butt lift, it's crucial to seek medical attention immediately. Symptoms of either of these complications can include fever, chills, pus drainage from incision sites, incision sites that feel hot or appear red, nausea or vomiting, intense pain, shortness of breath, confusion, and fast heart rate.
Choosing an experienced plastic surgeon can dramatically decrease your risk of poor results and complications after any cosmetic procedure. Be sure to do your research before deciding on a surgeon, and be sure to pick a surgeon who is board certified by the American Board of Plastic Surgery.
BBL Recovery Process FAQ
The early stages of recovery for any cosmetic procedure are rough, to say the least. You need to have a good idea of what you're in for before you even go under the knife. Below, Dr. Daneshmand provides the best BBL recovery tips and answers the most common questions he gets about the BBL recovery period.
How Long Does it Take to Recover From a BBL?
It takes about two to three months to make a full recovery from a Brazilian buttock lift, but it's important to keep in mind that the BBL recovery timeline varies from person to person.
The first week of the BBL recovery process is the hardest for most patients. During this time, the pain and discomfort is the worst, and all you can really do is rest. For the next four to six weeks of the BBL healing process, patients generally experience less pain and can begin to move around more.
How Long Do I Have to Wear Compression Garments After a BBL?
Compression garments are tight pieces of clothing that are designed to reduce swelling and/or improve circulation after a surgical procedure. Your plastic surgeon will likely instruct you to wear a compression garment around your butt and the liposuctioned area for about a month during your BBL recovery time.
How Painful is BBL Recovery?
BBL recovery pain is often compared to the pain from any other liposuction procedure. The pain shouldn't be excruciating, but it's certainly uncomfortable, especially at the incision sites and the injection sites. Many BBL patients say that the pain in these areas is most similar to muscular soreness, and is usually the worst during BBL recovery week one. Your plastic surgeon will likely prescribe you pain medication to take daily as your body heals.
Can I Sit During BBL Recovery?
Possibly the most surprising and unknown part about Brazilian butt lift recovery is that you must avoid sitting for long periods of time for at least eight weeks. Avoiding sitting for extended periods during the healing process is crucial to keep the complication risks low.
For example, too much pressure on the butt can raise risks for many cosmetic and health complications, including asymmetrical buttcheeks and death of the newly injected fat cells. The new fat cells in the butt area have to settle and create their own blood supply in order to survive and create the best cosmetic results.
So you may be wondering: does this mean I have to stand up for an entire 8 weeks? And how am I supposed to go to the bathroom? The good news is that sitting on the toilet for 10 minutes at a time will not cause any problems during Brazilian butt lift recovery. And no, BBL patients do not have to stand for their entire recovery period. The best way to rest is to lay on your side or on your stomach. Another solution to the "no sitting" rule is getting a BBL pillow, or a booty pillow, which is designed to relieve pressure from the butt and transfer it to the thighs instead.
How Do I Sleep During BBL Recovery?
Sleeping in a comfortable position is another common challenge for those enduring Brazilian butt lift recovery. You cannot sleep on your back for at least two weeks post-op because it puts prolonged pressure on the butt. Instead, you should sleep on your stomach or your side. But if you're a life-long back sleeper no matter what you do, you may have to get creative. You could get a large donut pillow (that looks like those circular pool floats) and sleep on it so that your butt is sticking through the hole of the pillow.
When Can I Go Back to Work After a BBL?
Most patients can return to work between 10 and 14 days after their BBL surgery. If you have a desk job, though, returning to work may be complicated and difficult for you. Remember, you cannot sit for long periods of time during the healing process. So you will have to get a standing desk, work from home (so that you can lay down and work), or use your BBL pillow at work.
When Can I Exercise After a BBL?
You should not do any heavy lifting or intense exercise until you are fully healed from your BBL surgery (two to three months).
This doesn't mean that you shouldn't move around at all during your recovery, though. It's important to get up and move around for a few minutes every day to promote adequate blood circulation and prevent blood clots. You may be able to resume low impact exercise around the 4 to 6 week mark but be sure to follow your surgeon's advice.
When Will I See the Final Results From My BBL?
Most patients definitely notice a difference in their body shape and contour during the initial recovery period, but the final result usually evolves over the course of several weeks or months. That's because the butt area is often a bit swollen immediately after surgery, so that must subside in order to see the final result.
Additionally, only about 60% of the transferred fat cells survive in the butt while the rest of it is reabsorbed and/or flushed out as the body heals. So towards the end of your BBL recovery timeline, you may notice that your new butt is a bit smaller than you originally expected, and this is completely normal.
How Long Do BBL Results Last?
A Brazilian butt lift is widely considered to create "semi-permanent" results because the body naturally fluctuates in shape and size as we get older. As long as you maintain a healthy, stable weight, your BBL results should last for several years. For the best results, many patients get their BBL results "touched up" every decade or so.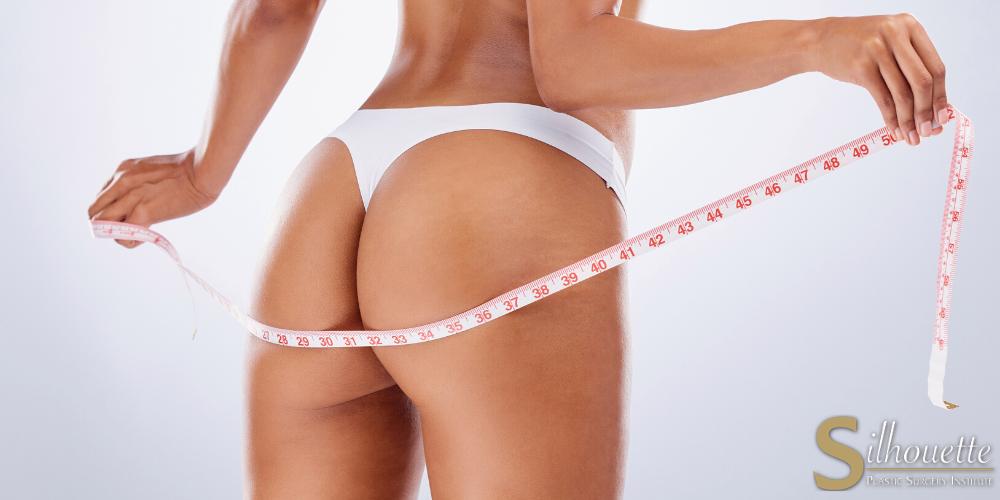 Call Silhouette Plastic Surgery Institute Today
If you're looking for a rounder, perkier butt without spending hours in the gym, a Brazilian butt lift may be the best cosmetic procedure for you. Dr. Daneshmand has more than 30 years of experience in helping his patients achieve their cosmetic goals, and he can help you do the same. Check out his Brazilian butt lift photo gallery, and then call 949-359-8397 to schedule an appointment today.