C Cup Breast Augmentation
In the United States, breast augmentations are among the most frequent operations performed by cosmetic surgeons. Breast augmentations can improve your look and raise your self-esteem. When women come in for a consultation for a breast augmentation, we frequently hear inquiries about implant size. What is the optimum implant size? What factors do we consider while choosing implant sizes? What steps do I need to take to get to this cup size or this cup size? And, more particularly, there are concerns about breast implant A to C cup boobs.
At the Silhouette Plastic Surgery Institute, Dr. Hootan Daneshmand performs breast augmentations on a regular basis, which means he's well-versed in the needs of his patients. We believe that well-informed patients make better decisions when it comes to their cosmetic desires. That's why we've included important information in the following sections. To learn more or to schedule an appointment at our Orange County plastic surgery center, please call 949-359-8397 today.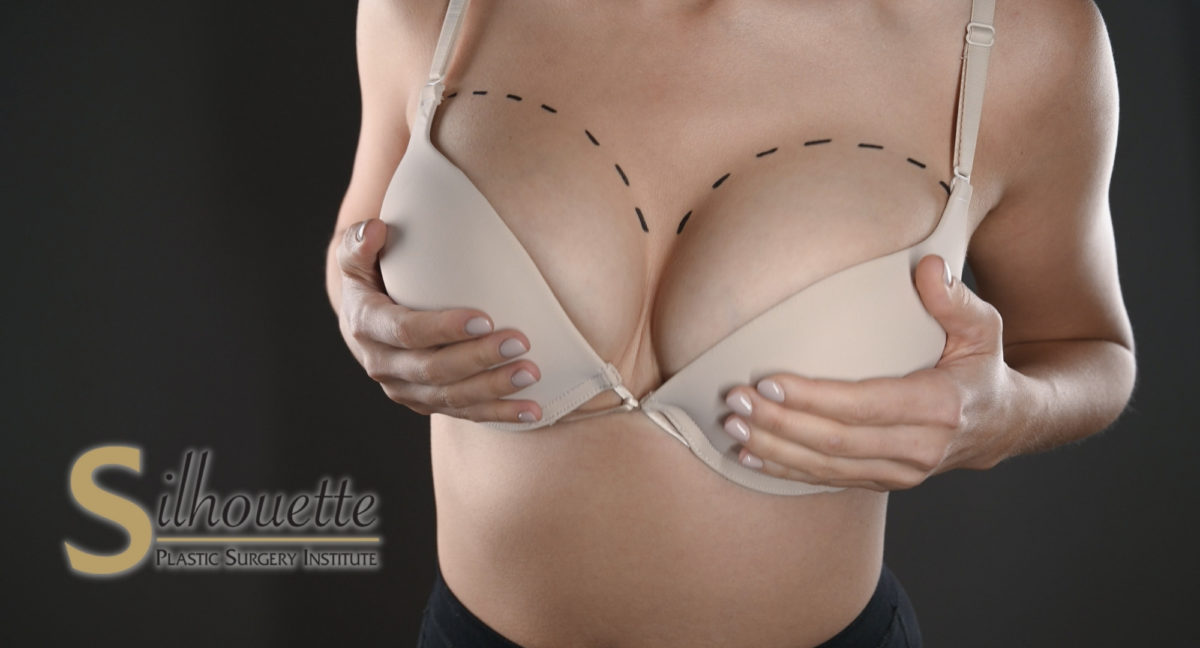 What Is The Average Cup Size in the U.S.?
Some women like to consider the average breast size in the U.S. before choosing their new cup size or implant size for a breast augmentation. According to a 2013 report, the average cup size among American women is 34DD. That is a huge jump in size over the last 2 to 3 decades. In the 90s, the average breast size among American women was 34B.
Can I Get C Cup Breasts With Implants?
When it comes to C cup breast augmentation, you have the option of having any size cup breast implants that you want. For some women, however, certain implant sizes may not be the best option. The consequences of selecting the incorrect implant size will be discussed later on.
This is when your surgeon's advice comes in handy. Dr. Daneshmand can help you choose the best implant and breast size for your lifestyle and aesthetic goals. Women with natural A cups generally have no trouble undergoing a C cup breast augmentation because it only requires a moderately-sized implant.
How to Decide What Size Breast Implants to Get
We're all familiar with the A, B, C, and up bra cup sizes. But implants are measured in cubic centimeters, or cc for short. Breasts will generally expand by one or one and a half cup sizes for every 150 to 200 ccs. It's important to note that breast sizes will always vary based on your individual measurements and even the type of bra (push-up bra, sports bra, strapless bra, etc.). During your appointment, you may always try on different cup sizes with specialist bras to evaluate how the implants appear and feel on your body.
With such a wide range of sizes, it's vital to remember that not every woman's body shape or breasts can tolerate implants that are higher on the scale. The optimal size implant will depend on your body type, including your ribcage measurement and bust measurement. 
Larger breasts, whether natural or enhanced, are naturally heavier. This can have a significant impact on a woman's entire body. Large breast implants are best handled by women with bigger frames and/or stronger muscles, although even they can have problems. Choosing a breast implant size that is too big might cause fatigue, back and shoulder pain, and possibly the need for a breast reduction.
Larger implants may not be suitable for slim bodies, athletes, or women who work in physically demanding occupations. It's simple: carrying the extra weight when working, exercising, lifting weights, or participating in sports is more exhausting and potentially harmful.
How to Size Breast Implants
The language surrounding breast augmentations and implant sizes differ greatly from bra sizes. At times, it gets confusing. However, the first thing to understand is that medical professionals do not measure implants by bra cup sizes.
There are numerous reasons for this, the most important of which is that bra sizes are not universal across bra brands. Most women know that a C cup in one brand may be a B cup or even a D cup in another. 
Doctors and surgeons measure implants in cubic centimeters, or CCs. In order to achieve C cup breasts, we look at a few important factors.
Your current ribcage measurements

How much natural breast tissue you have

Your aesthetic and physical goals
Going from B cup breasts to C cup breasts requires a smaller implant than going from an A cup to a C cup. It is still possible to achieve a C cup breast augmentation from a natural A cup.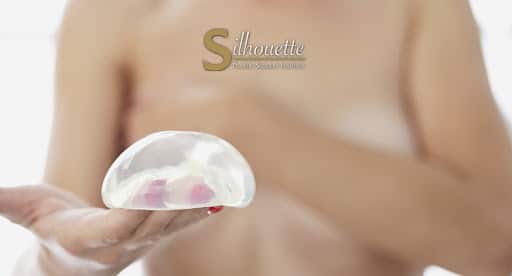 How to Correctly Measure Cup Size
Did you know that you're probably wearing the wrong cup size? That's right! A 2019 New York Times report claims that more than 70% of women are wearing the wrong bra size due to a lack of knowledge about measurements. Knowing your current, correct bra size is crucial before getting c cup boobs. No worries, Dr. Daneshmand will determine your current size and give you suggestions on the best cup size (or implant size) to move up to.
Ribcage Measurements
In order to figure out your current bra size, you must use a tape measure to get a ribcage measurement and a bust measurement. For band size, wrap the tape measure around your ribcage, just under your breasts. Add two inches to that measurement, and that's your correct band size. Remember that band sizes are evenly numbered. So if you get an odd number, just round up one. Let's say your ribcage circumference is 31 inches and you add two inches, making it 33 inches. All you need to do is round it up to 34 and that's your band size.
Bust Measurements
In order to determine which cup bra you need, you'll have to measure your bust size.
To do this, wrap the tape measure around the fullest part of your breasts. Then subtract this number from your band size. The difference is your cup size.
So let's say your band size is 34 inches and your bust size is 36 inches. All you have to do is subtract 34 inches from 36 inches which would equal 2 inches. According to the chart below, your correct bra size would be 34B.
Those with B cup bra sizes are excellent candidates for C cup bra sizes.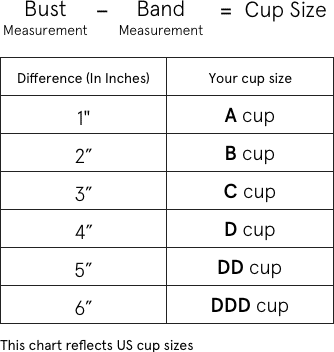 Is It Worth Getting C Cup Breasts?
It depends. Maybe you're a natural A cup and you want C cup breasts. You're probably wondering if it's realistic or even worth it to shoot for a C cup. There are actually a few reasons why aiming for C cup breasts is a great idea.
Clothing: Most clothes tend to fit better for those with B or C cup breasts. Therefore, increasing to a C cup might make it easier to fit into and shop for clothes. Increasing to D cup breasts or beyond, however, might require an all new wardrobe to accommodate larger breasts.
Lifestyle:

If you lead a very active lifestyle, you might want a bigger size, but not so big that it impacts your comfort while running or exercising. C cups are a great option for this, as they tend to cause less back pain and discomfort than D cups.

Symmetry:

In many cases, our patients care less about increasing the size of their breasts and care more about improving the shape or symmetry. If you feel that your breasts are uneven, or if you are unhappy with your shape, C cup breasts can improve these areas. It's also important to discuss which implants are right for you in terms of firmness and appearance. Maybe you like the shape given by

gummy bear implants

, maybe not. Speak with your surgeon to explore your options.
Why Should I Not Get Bigger Implants?
If you want bigger implants, you can get them. What you want to get out of the breast surgery is the most important element in selecting implant size. Dr. Daneshmand and his staff will work with you to pick an implant size and style that you want, even if you desire the largest implant size conceivable.
However, going from an A cup to a D cup or above will require large implants. There are a variety of reasons why this may not be the ideal option for everyone, including those mentioned above: lifestyle, clothes, and so on. However, there are a number of medical reasons why big implants may not be the best option.
To begin with, breast implant manufacturers create implants that are low in weight, similar to the weight of natural breast tissue. The larger the implant, however, the heavier it will be. Increasing your cup size from an A to a D or higher may dramatically increase the weight of your breasts, which may alter your posture and cause back or shoulder pain in the long run.
Secondly, bigger implants increase the danger of rippling and the implants sliding out of the breast pocket. Larger implants also have a higher risk of sagging or falling over time, as they are significantly heavier.
Finally, bigger implants will make your breast augmentation more noticeable. For many women, this is the desired outcome, but not for all. Some women may prefer a subtle aesthetic change.
How Does Gaining or Losing Weight Affect C Cup Breast Implants?
Weight loss or gain of less than 20lbs likely won't affect the appearance of your C cup breasts. However, a weight loss or gain of more than 20lbs may change your cup size post breast augmentation, especially if you have large amounts of fatty breast tissue. Additionally, major changes in weight can change the perkiness of your breasts over time. If this happens to you and your self-confidence suffers because of it, you may need breast revision surgery. 
It's important to remember that all bodies and breasts are different. Weight changes affect everyone differently. Make sure to tell Dr. Daneshmand if you're actively trying to lose or gain weight. He can give you a good idea of how your new breasts will respond to the weight change given your frame, current measurements, and the amount of fatty breast tissue you have.
Does Insurance Pay for Cosmetic Surgery?
Insurance doesn't cover most cosmetic surgeries because they are generally elective surgeries. In other words, cosmetic surgeries are often not medically necessary. So most women pay out of pocket for their C cup breast augmentation. However, insurance covers breast surgeries in some cases. For example, insurance will cover breast implants for women who have had mastectomies due to breast cancer. If a breast augmentation is medically necessary for you, contact your insurance company and ask if they will cover it.
Call Silhouette Plastic Surgery Today If You Want C Cup Boobs
Dr. Hootan Daneshmand is a board-certified plastic surgeon with extensive knowledge of his craft. While serving Orange County, Bakersfield, Riverside, and Newport, he has provided only the latest in cosmetic, reconstructive, and plastic surgery. If you have questions about breast augmentations, a breast lift, breast reconstruction, or other breast procedures, feel free to contact our office. Call today at 949-359-8397 to schedule a complimentary consultation.