Many cosmetic products are on the market that promise to remove wrinkles and other signs of aging. While some may hold up those promises, most usually minimize the appearance of wrinkles and sun damage for a short period of time.
If you're looking for a more permanent solution to your coarse wrinkles, acne scars, sun damage, and other signs of aging, consider a phenol peel. These deep chemical peels work deeper than lighter and medium peels, so you feel like you're wearing a new face!
A phenol peel can help you achieve brighter-looking skin in a matter of weeks. While they may sound scary, they are safe, but only a licensed specialist should perform phenol peels. If you're tired of trying the latest and greatest facials and skin products to improve your complexion, the Med Spa at Silhouette Plastic Surgery Institute is ready to help. Schedule an appointment with Dr. Daneshmand today by calling 949-359-8397 to begin your fresh face journey.
What is a Phenol Peel?
Phenol peels are the deepest chemical peel treatment available. Gentler chemical peels penetrate the epidermis layer of our skin, the top layer. However, phenol peels are strong enough to penetrate the epidermis and the dermis.
The phenol peel treatment uses phenol and carbonic acid, the deep peel agent, to remove damaged tissue for the skin to repair and heal itself. The weakened collagen fibers are replaced within the dermis, improving the structure of the epidermis above. This process is what gives the new skin appearance afterward.
The phenol peel is very similar to other chemical peels – it just works on a deeper level. Patients will experience skin peeling, hence the name "peel." Since phenol peels reach the dermis layer, the skin that peels away includes sun damage, acne scars, wrinkles, and more. The skin that peels away reveals a fresher face with improved skin tone and texture.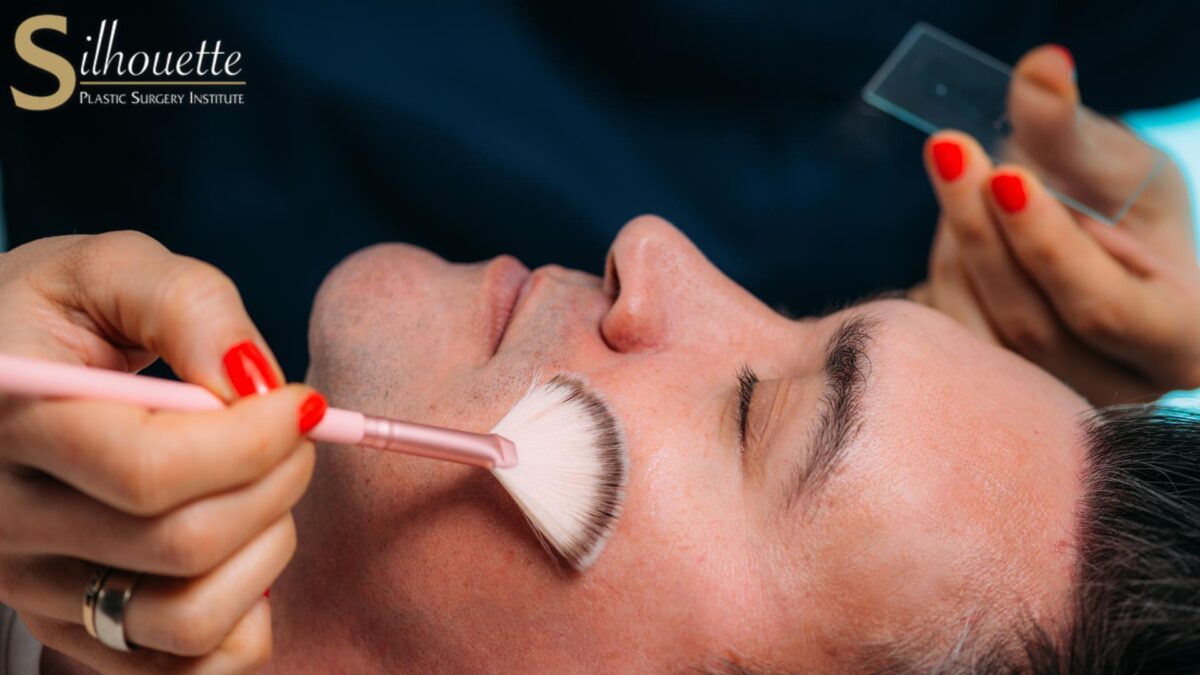 What is a Phenol Peel Good For?
Phenol peels are great for the following skin conditions:
Deep wrinkles
Deep acne scars
Skin discoloration
Sun damage
Precancerous growths
The phenol chemical peel can also improve your skin's texture, tone, and pigmentation.
Who is a Good Candidate for a Deep Chemical Peel?
Individuals that are lighter skinned or have a fair complexion are good candidates for a phenol chemical peel. People with darker complexion or sensitive skin should avoid phenol peels and opt for gentler chemical peels since they can be prone to scarring, burns, and hyperpigmentation. TCA peels are a good option for those with darker skin looking for a chemical peel option.
It's best to discuss your chemical peel options with your dermatologist or esthetician so they can suggest the best type of peel for your particular skin type.
How Does a Deep Chemical Peel Work?
Before the phenol peel procedure begins, your esthetician will give you a sedative to help you relax and administer a local anesthetic to numb your face. After this, your face will be cleansed before applying the chemical solution.
The chemical solution phenol, or carbolic acid, is brushed onto the skin and then neutralized with water. Afterward, ointment is applied to the skin to help reduce swelling and pain. In order to keep the ointment in place, your esthetician may cover it with gauze or tape.
Once applied to the skin, the phenol peel reaches the dermal layer and removes the damaged skin. The weakened collagen is replaced in the dermal layer during the healing process, which strengthens the epidermis layer. As the damaged skin and collagen are removed, skin issues like deep wrinkles, acne scarring, precancerous growths, and other textural problems are removed. Patients will enjoy fresh, new skin once the skin has peeled off the damaged skin.
Deep Chemical Peel Risks and Side Effects
A deep chemical peel has more risks than light and medium peels since it penetrates the skin at such a deep level. The risks and side effects that deep peels can cause are:
Redness: Following a deep peel, you may experience some redness, swelling, and scabbing. This can last several months following your procedure.
Infection: Chemical peels can lead to fungal, bacterial, or viral infections. Phenol peels could cause herpes flare-ups, the virus that causes cold sores.
Skin color changes: Hypopigmentation, when the skin becomes lighter than normal, is common following a deep phenol peel. This side effect is more common with those that have dark skin and can become permanent.
Scarring: A phenol peel rarely leads to scarring. If it does happen, a person may have scars on the lower part of their face. Your doctor can prescribe steroid medications and antibiotics to reduce the appearance of scars.
Kidney, liver, or heart damage: The chemical solution phenol, AKA carbonic acid, can lead to damage to the heart muscle. It can also cause an irregular heartbeat and cause damage to the liver and kidneys. In order to lower your chances of kidney, liver, and heart damage, the phenol chemical is done in small sections at 10 to 20-minute intervals.
It's important to be honest and upfront with your esthetician when considering a procedure like a phenol peel. Your doctor may suggest a gentler chemical peel if you:
Are pregnant
Experience serious or frequent cold sore outbreaks
Have a family history of keloids, the overgrowth of scar tissue
If you've taken any oral acne medication, isotretinoin.
Recovery From a Deep Chemical Peel
Phenol peel recovery is a longer healing process than light to medium chemical peels. After your phenol peel procedure, you will have excessive swelling and redness. The swelling could be severe enough that your eyelids become swollen shut. You may also feel a burning and throbbing sensation.
Following your procedure, your doctor will apply a surgical dressing to keep the ointment in place. You may also receive a prescription for painkillers. You will need to soak your face and reapply the ointment several times a day during the course of the next two weeks.
After two weeks, you should begin to develop new skin. During this time, your face will peel, but it's important not to pick at it or peel the skin off. The peeling skin must fall off on its own. You will most likely continue experiencing redness for weeks or months afterward. Your face could also appear lighter after your face phenol peel, and it may not be able to tan anymore.
Many patients stay home after their phenol peels during the healing process. Your doctor will most likely have you come in for several follow-up appointments in order to monitor how your face is healing.
After two weeks, you can begin using makeup to cover any redness. It's extremely important to wear sunscreen every day. Once you've healed from your full-face phenol peel, you will notice a drastic improvement in your skin. Over time, however, the sun can cause damage, creating new facial wrinkles and sun damage. Our skin will also change as we continue to age.
How Much Does a Deep Chemical Peel Cost?
The cost of your deep chemical peel will vary depending on what type of peel you have. Other factors that affect the price are your esthetician's experience and where they are located. Generally, chemical peels average a little over $300, but they can cost anywhere from $99 to over $2,800. During your consultation, our estheticians will discuss the costs of your phenol peel.
Call the Med Spa at Silhouette Plastic Surgery Institute Today
Call the Silhouette Plastic Surgery Institute if you're ready to say goodbye to damaged and uneven skin. Board-certified plastic surgeon Dr. Daneshmand has performed countless cosmetic procedures to help his clients throughout Orange County feel like the best version of themselves. We also offer many other facial procedures, including facelifts, neck lifts, and more. To schedule a consultation for your phenol peel or to learn about the other cosmetic services we provide, call 949-359-8397.